Digital Marketing Techniques For Your Small Business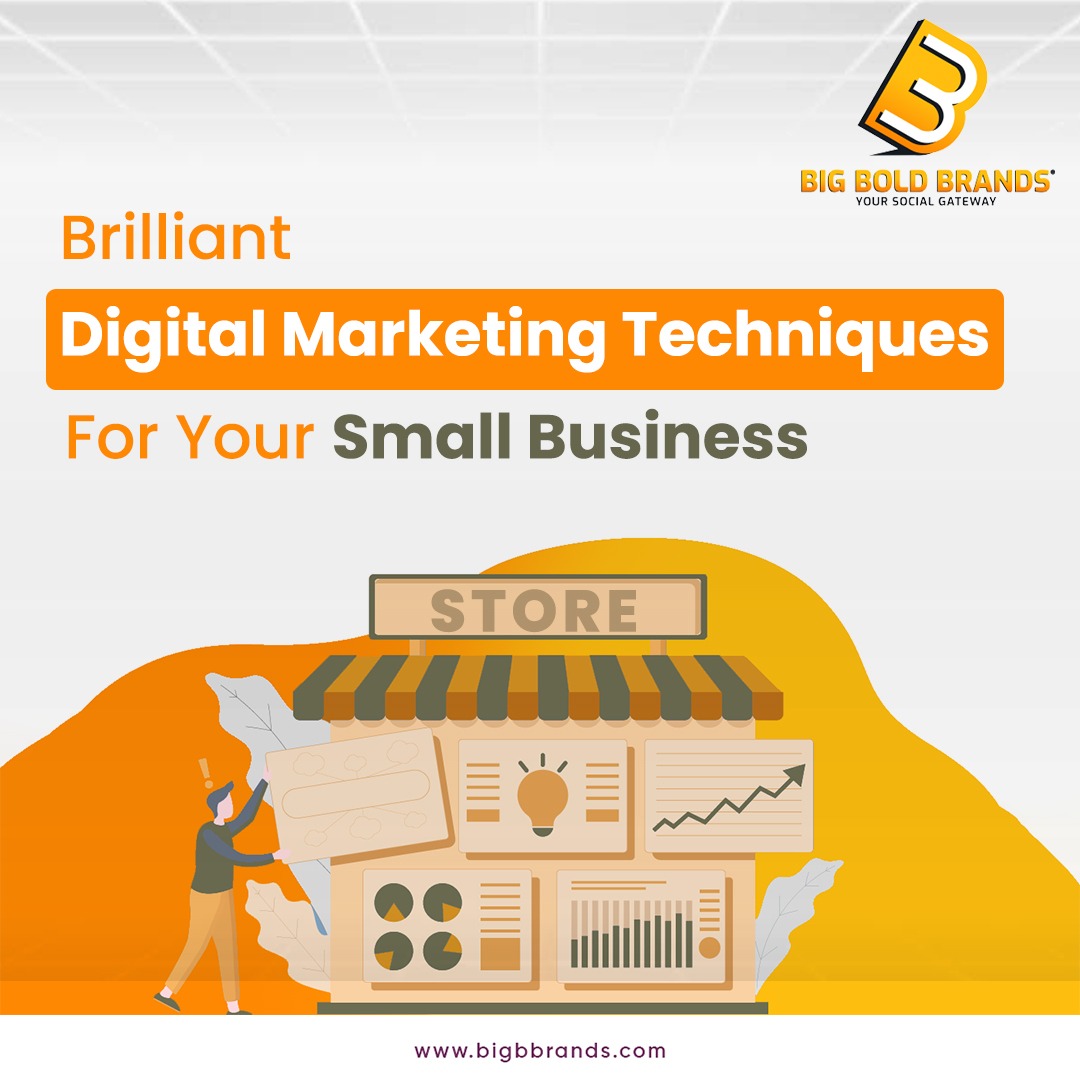 Brilliant Digital Marketing Techniques For Your Small Business
Starting a new business is a tough task that demands a significant amount of time and work. You'll need to perfect your offering, choose the best sales channels, conduct market research, and more.
People will not know about your business unless you advertise it, no matter how amazing your product or service is. Digital marketing is crucial for building your brand and producing sales leads for your small business. In this blog, we'll go over some of the most effective marketing strategies for growing your small business's size and reputation.
Build an SEO-Friendly Website
Any new firm must have a website where customers may learn about it and buy its products or services. Build a website that is optimized for both search engines and conversions, and you've already overcome the first hurdle.
Increase organic traffic to your website before investing in other marketing tactics.
Tell Your Brand's Story
It is critical for any company to establish a relationship with its target market and develop a distinct brand image. Telling your brand's story is a great approach to do so.
Authentic brands with a compelling origin story are more likely to be remembered and leave a lasting impact. So, if you want people to remember your brand when they hear about it for the first time, tell them about it.
Use Social Media Marketing to Your Advantage
Social media marketing is one of the cheapest and most successful kinds of marketing you can invest in as a small business owner.
You can do this in-house for very little money if you're ready to put in the time and work. You can also start using social media marketing tools to handle your accounts as your company expands.
To help you get started, consider the following social media marketing tips:
Choose the right platforms to reach out to your target audience.

Find and stick to your brand's voice.

Post on social media on a frequent and consistent basis.

To grab the audience's attention, use high-quality, eye-catching graphics.

In your social media bios, link to your website.

Use strategies to attract visitors to your website from social media.

To reach out to more individuals, use popular and relevant hashtags.

To keep track of your marketing, make your own branded hashtags.
Instead Of Just Telling, Show
As time goes on, visual content will continue to gain in prominence. After all, visuals are processed 60 times faster by the human brain than words.
Video is also a simple and effective technique to keep your audience interested. According to Hubspot, 72 percent of people prefer learning about a product or service through video. More people are using their smartphones instead of computers, and visual apps like Instagram, Snapchat, and YouTube make it simple to post, watch, and share content like photos and videos.
Search Engine Optimization (SEO)
For a small firm, this aspect of marketing is crucial. It allows you to compete with larger businesses by increasing your visibility in search engine results. Because people use search to find things both online and in person, it's critical for your business to rank high in search results for keywords related to what you're selling. This service is provided by professional internet marketing businesses through search engine optimization (SEO), which can make your website rank higher in search engine results pages by using techniques such as:
Volume and keyword research

Creating internal links

Creating high-quality, relevant content
Mobile Marketing
Whether a customer is searching for a service or company, comparing costs, or making a purchase, their mobile device plays a major role in their experience.
In mobile marketing, customers are reached via SMS, social networks, websites, emails, and apps on their smartphones or tablets. Businesses can employ technology to target customers based on their location or time, such as emailing a promo code to customers as they enter a business.
Pay-Per-Click (PPC) Advertising
Pay-per-click (PPC) marketing is when a business places online ads and only pays when the ad is clicked. There are numerous forms of online commercials, including those that appear on the sides of a search, promos that run before movies, and advertisements that appear in mobile apps or when browsing the web.
PPC advertising has a number of benefits, including the ability to locate ads to a particular geographic place and only paying for results.
Try the strategies discussed in this article if you run a small business and are having trouble meeting your marketing objectives. These are tried-and-true marketing strategies that can give you the boost you need to dominate your market. If you need further help don't hesitate, to contact us right away. Visit www.bigbbrands.com