How to do YouTube SEO for better Ranking?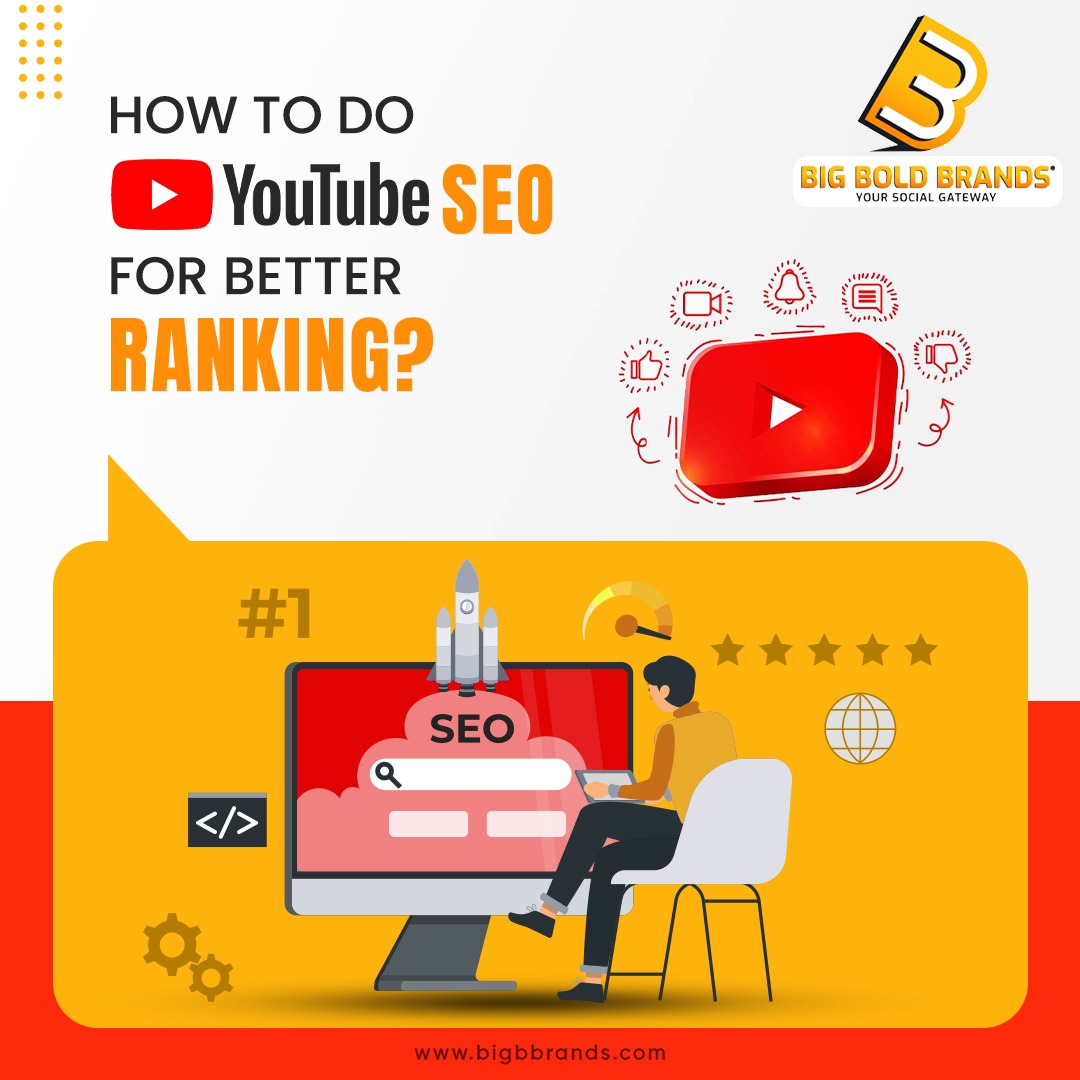 YouTube is the second-largest search engine in the world behind its parent Google. YouTube currently makes up eight out of ten of the results for video searches, with more than 500 hours of brand-new content being posted to the platform every minute. What can you do to prevent becoming lost in the sea of videos? Your chances of ranking highly for amazing videos are at best when you use best practices for video SEO. The tips in this article can be used to create a solid YouTube SEO plan.
What is an SEO strategy for YouTube?
Unlike Google, which determines its position based on backlinks and other factors, YouTube SEO requires enhancing your channel, playlists, metadata, descriptions, and videos. You can optimise your videos for search both inside and outside of YouTube.
You might be familiar with the fundamentals of SEO for YouTube videos, such as using keywords in the channel name, meta description, and tags. But there's more you can do for YouTube SEO by making videos more accessible. Since search engine bots are unable to view videos, they must be properly indexed using the accompanying text information. Utilising the text in your video in the form of transcripts, closed captions, and subtitles is a crucial part of a YouTube SEO strategy since it may have a beneficial impact on user experience, engagement, watch time, viewership, and SEO.
These tips can help you increase views and improve your YouTube SEO.
1. Pick an excellent keyword
You must choose the ideal keyword or phrase for your video before you can improve YouTube SEO. Keywords can be added in video metadata and titles, and in the audio, they also can be added in captions and transcripts. The words and phrases you use in your videos to describe them should match the words and phrases that people use to search for content similar to yours.
2. Give your video description a transcript
On YouTube, the ideal place to show your transcript is in the video description. A 10-minute video with a lot of dialogue may typically fit a transcript in the description field's 5,000 character limit. You can add a condensed version with a link to the full version on a different web page if your transcript doesn't fit or you want to include additional significant information in the description, such as a call-to-action.
3. Create tags, descriptions, and titles with optimum keyword usage
Once you've chosen a good keyword, you must make sure that the texts related to your video are optimised for that keyword. Remember that search engines are aware of keyword stuffing, a black hat system by employing excessive amounts of keywords and phrase variations. This practice can put your YouTube channel and account at risk. Write for people, not machines, or you risk being penalised.
4. Consider using a catchy thumbnail
The click-through rate is significantly influenced by the video thumbnail image. YouTube users have the option to select which frame will be the thumbnail for their video. In addition to the three images that YouTube will offer, you can either choose an image from another part of the video or upload a photo of your own.
5. Include YouTube cards and end screens
YouTube cards are preformatted notifications that prompt viewers to take specific actions throughout your video. Once configured, cards show up in the top right corner of your videos for viewers to click on and explore. Cards are a terrific technique to improve your rating on YouTube because the platform wants to keep users there.
A video can have up to five cards. Cards may contain a variety of CTAs, such as links to other channels, requests for donations to charities, and crowdsourcing.
After a video has finished playing, end screens appear and direct viewers to the next step. Cards and end screens can both enhance the viewing experience and motivate users to watch additional videos or move forward after they've finished one.
6. Analyse your data
Monitoring your analytics is the only method to determine whether your YouTube SEO approach is effective. Metrics may show you where your videos are succeeding and where they may need some improvement. You may track your progress using the various analytics data provided by YouTube.
End Point
A successful YouTube channel starts with quality material, regardless of the SEO strategy or software you choose to use. Make sure that when people find you, they can watch something of great quality and relevance. Big Bold Brands offers top-notch YouTube video marketing services. Contact our experts to help you with your queries. Visit https://bigbbrands.com/digital-marketing-services-abudhabi